Website development on WordPress for travel agency
Site: blisstour.com.ua
Tagline:
Only the best holiday resorts.
About company:
Blisstour company is one of the leading tour operators in Ukraine. Only the best resorts for each client. We can find you the best vacation in your pocket.
Task
Website development for WordPress business cards for Blisstour. The site design was based on a layout developed by the customer himself. The main task was to realize everything as soon as possible.
Concept
The strategic session with the client determined the movement vector – it was necessary to come up with a completely new form. By transmitting through the site that emotion that a person experiences from a long-awaited vacation.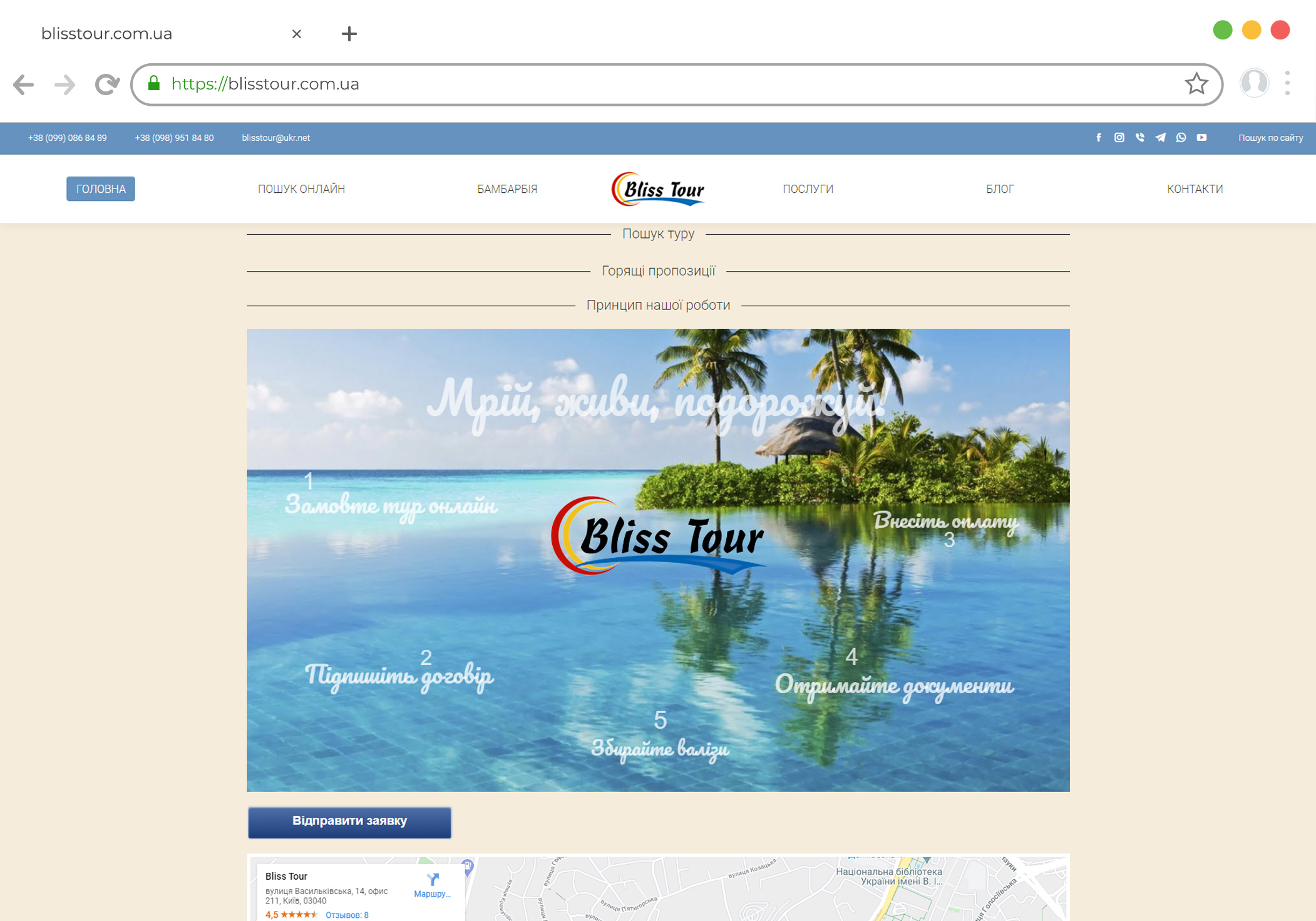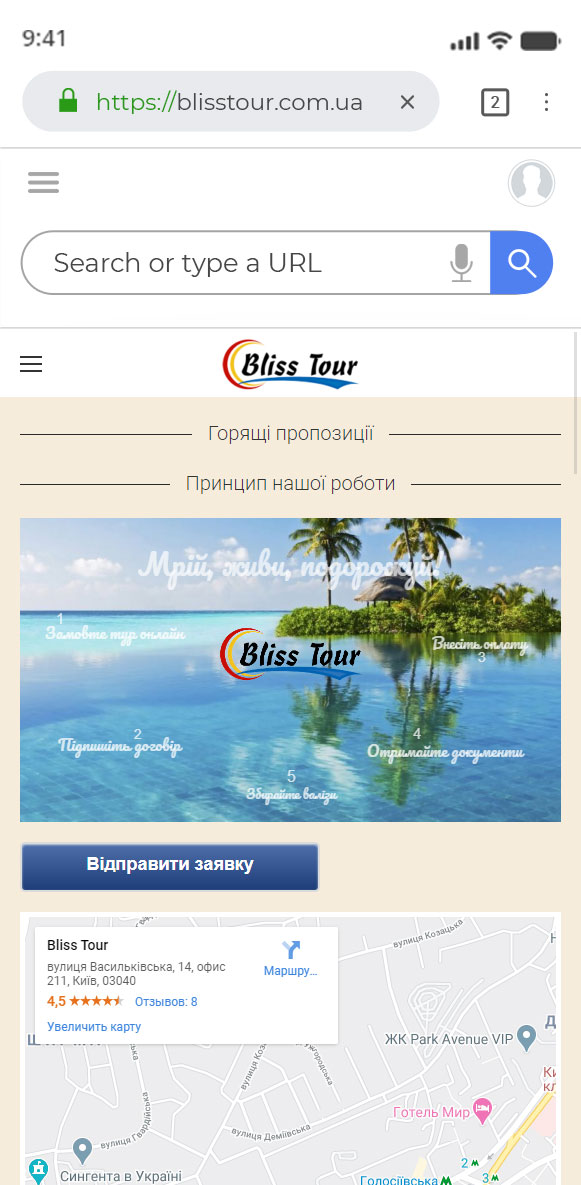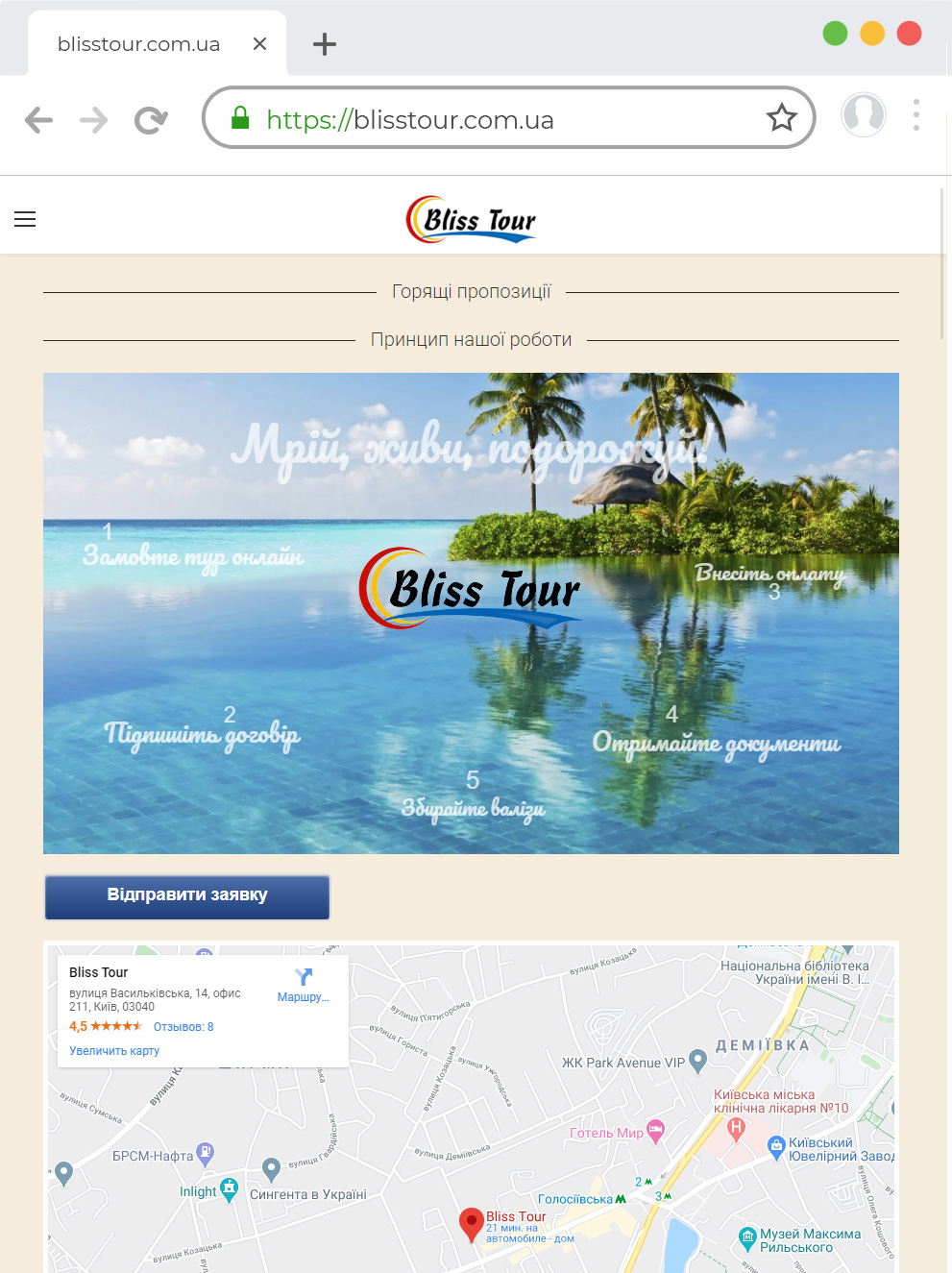 Creating a travel agency website
Today's own Internet resource is the key to the development of the company, which opens up prospects for it to increase sales of services or products. Selling tours and tours means realizing impressions, emotions, meeting dreams and sights. If the site of a travel agency captures you at first sight, sets you up for positive emotions, and even offers tours cheaper than competitors with extensive geography on five continents, then it will have more than one client, and not two.
But creating a selling and cost-effective website for a travel company requires comprehensive knowledge of computer programming, the nuances of the travel business, economics, and customer psychology.
What do we offer?
Order a travel agency website from Bast Studio is not a purchase of programs and scripts. We individually work with clients to achieve a profitable result and create a resource that makes 100% of potential visitors from potential visitors. Full coverage of the company's offers, automatically working tabs and shop windows forcing visitors to the site, become buyers of last-minute packages. We will listen to the wishes of the customer, explain our own vision, give positive examples of our developments.
What does the customer receive?
Having ordered the website of the travel company with the Basta company, you can guaranteed to expect:
attracting and retaining the target visitor on the resource;
motivation to purchase a ticket or tour;
prompting a phone call or application;
site competitiveness.
Effective Tools
Usability – convenient search for information, comfort of booking, payment, sending applications, communication with an online manager, nice colors and much more. Being on a resource should not be uncomfortable.
Sales content – high-quality photographs and detailed tour descriptions help attract future tourists.
Target orientation – here the customer's knowledge about the needs of his potential customers, which should be emphasized, is useful.
Regular development and SEO promotion – we offer not only to order a travel agency website , but also its support. Business and technology do not stand still. Timely implementation of new opportunities will allow you to stay among the best companies in your sector.
Continuous work – the technical resources and programs we offer allow the site to work without failures, satisfying all the needs of a web resource in this area.