Website development for the sale of lighting in Ukraine lustra com ua
Site: https://lustra.com.ua/
Slogan:
Lighting for every home
Company:
Founded in 2020. Several young and motivated guys have founded their own ShowRum to sell lighting for the population of Ukraine.
Task
Received an order for website development for a company that founded its own ShowRum selling lighting for the population of Ukraine. The site was developed by Ocstroe. Also, two languages were implemented for the site.
Concept
A company selling lighting for the population of Ukraine ordered a website. The functionality of the site was implemented to the maximum, for the convenience of work and presentation of the goods on the site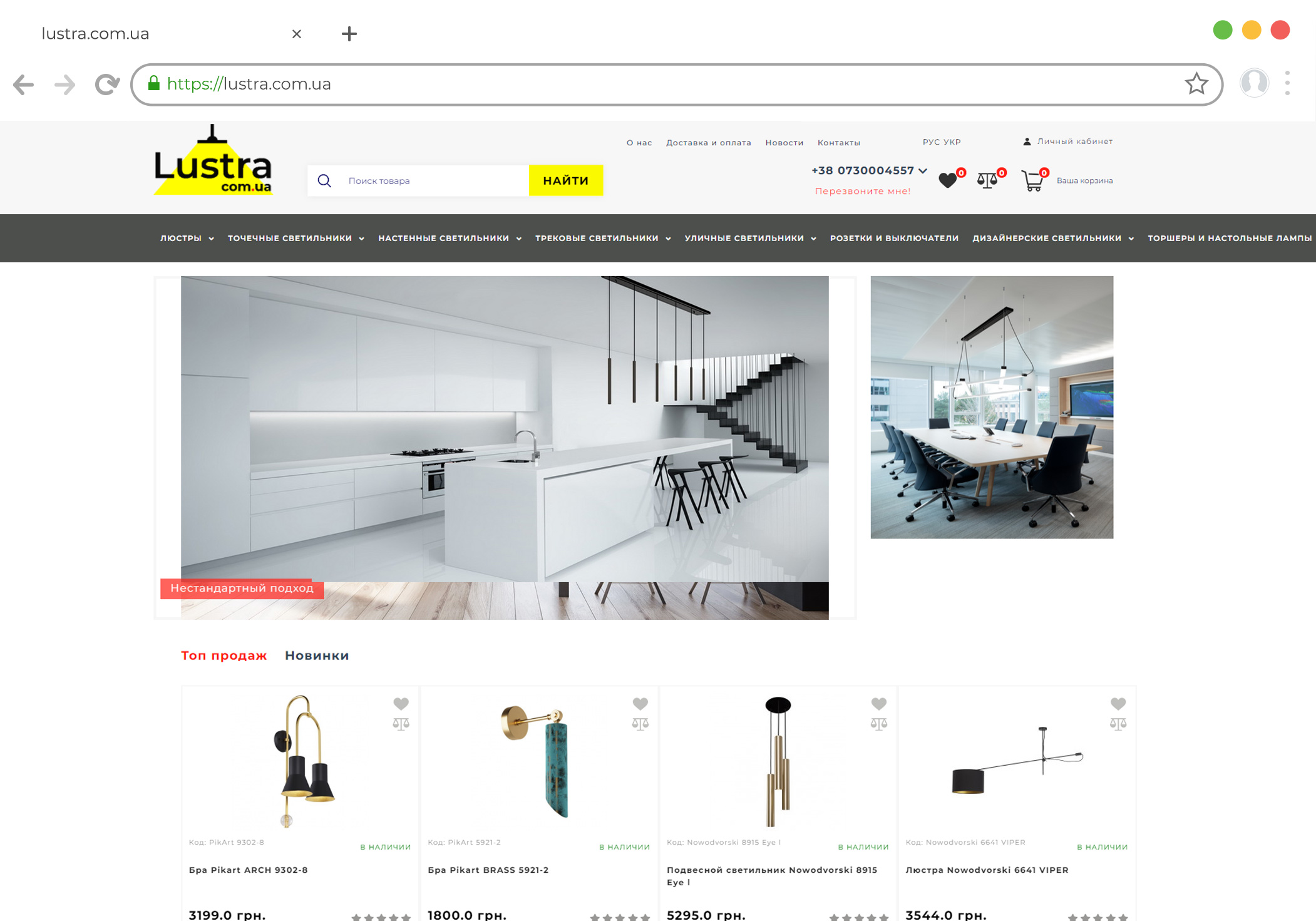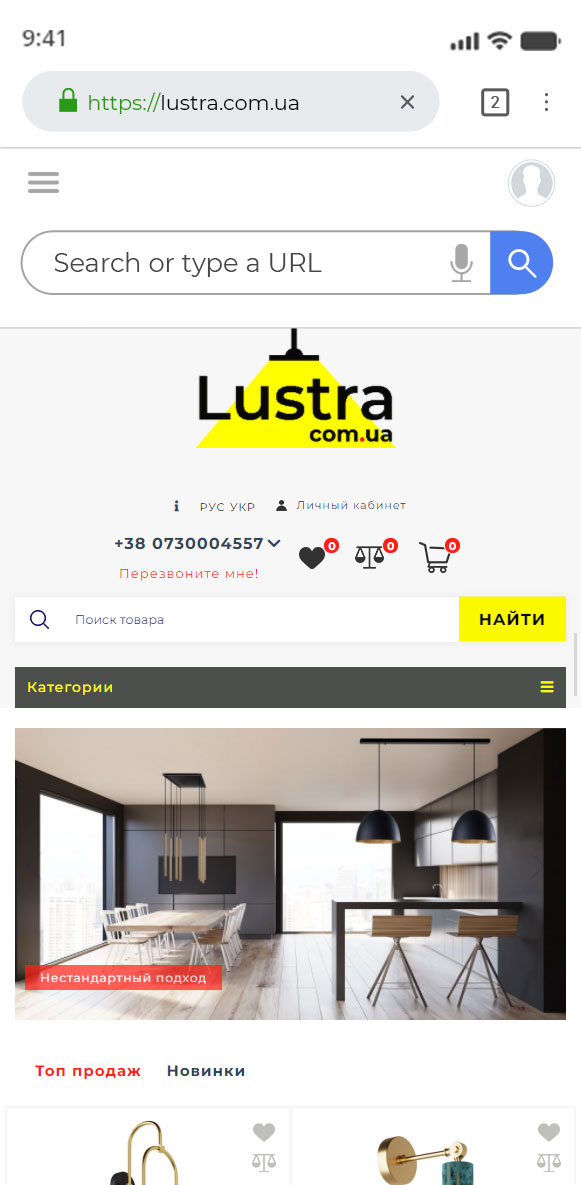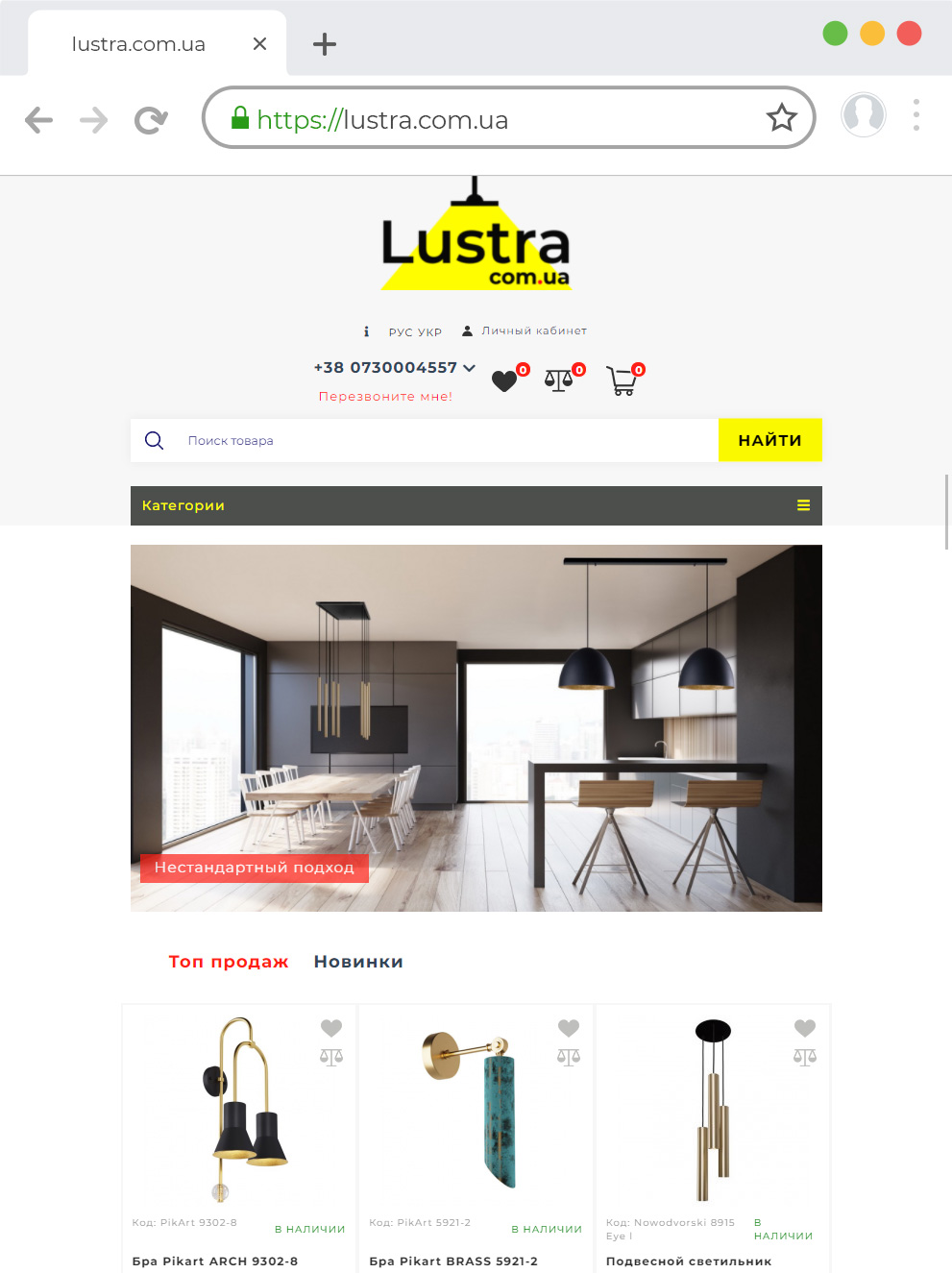 Development of a website for the sale of lighting in Ukraine lustra com ua
When a business owner firmly says to himself – "I will order a site" and starts looking for a project executor, then he, most often, already has an idea of how its resource should look like. This understanding is most often the basis for product development by web studio. Studio "Bast" was even more fortunate in this respect with Lustra, since the guys themselves have been working in design sphere for several days and knew well what the result was needed. The site lustra.com.ua was born easily and its final version became an excellent example of close creative cooperation between the client and the performer.
Site Lustra.com.ua: as it should be – very light and understandable
Our client wanted a light, light website, not overloaded with information and images. Therefore, a laconic theme was created in which all the data necessary for users is hidden under the items of two menus. The home page is based on the finished work of a company that designs lighting and sells unusual, stylish fixtures for home and business.
Below the pictures with samples of works is a block with top products, subtly involving the visitor in the choice of products that are really great. Product cards are also not overloaded with information and contain an image of the product on a white background, a description with a list of characteristics and a yellow "Buy" button that stands out on a white background. Below is a one-click buy link for the busiest visitors.
Separately, it is worth mentioning the "News" section of the site, which not only performs an SEO function, helping to optimize the resource, but, according to its owners, is a kind of guide to the world of modern lighting. Articles on lighting technologies, installation and product selection rules not only help search engines find a site, but are also useful for visitors.
Technical nuances of working with lustra.com.ua
The Lustra website is based on ocStore online store based on OpenCart. Today it is one of the best solutions for online stores of any type and size, working in Russian and Ukrainian languages. Such important points also spoke in favor of choosing this system:
The CMS is highly scalable and can be used to quickly deploy a large online business;
OcStore is search engine friendly and reciprocated;
High-quality Russian and Ukrainian localization;
Ability to easily add and remove languages;
Simple, intuitive administration that can be mastered in a matter of hours;
Ample opportunities for changing the design and even the concept of the site with minimal effort and time;
Good protection against virus attacks;
Great tech support with regular updates and real two-way communication with developers.
As is customary in Bast web studio , initial site development provided several options that were closest in spirit to the idea of the customer. The version that formed the basis of the finished product was approved almost immediately, with minimal comments.
Web studio "Bast" is always a creative approach, non-standard solutions and attention to detail that make up great things. We are well known not only in Ukraine, but also in the CIS countries, as a responsible executor who is not afraid to entrust the most responsible and large-scale projects. You can learn more about web studio and our work by contacting us by phone or by email. "Bast" is a team of professionals for whom there is nothing impossible in the world of the web.