Creating an Online Household Chemistry Store
Site:
Tagline:
Only quality household chemicals in every home.
About the company:
Website of household chemicals for wholesale sale of goods.
Завдання
Website development on OpenCart CMS for sale of goods to both wholesale buyers and retailers.
Concept
Strategic session with the client, defined the motion vector – it was necessary to come up with a completely new form. By communicating through the site the emotion that a person feels from clean clothes or cleanliness in the home.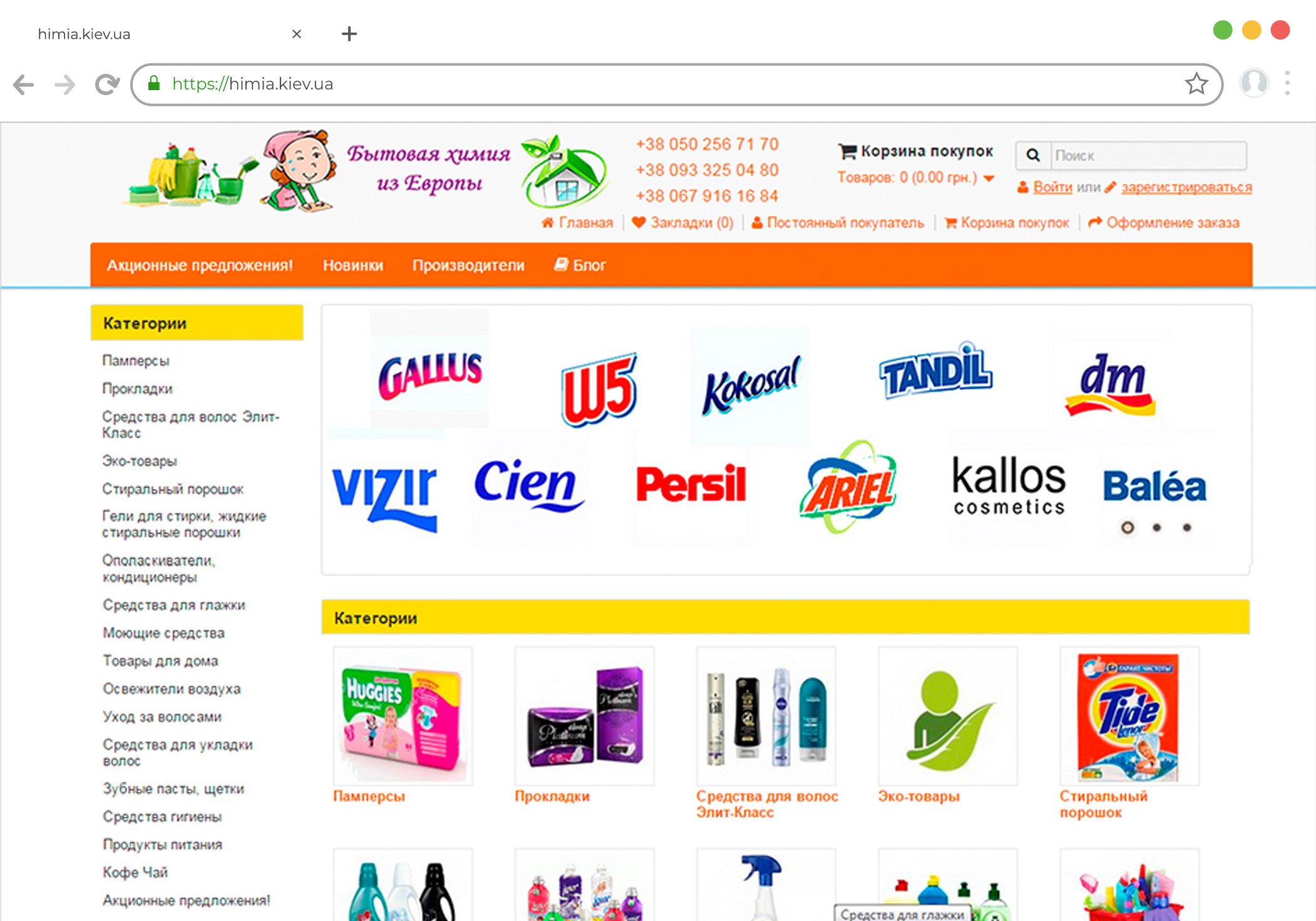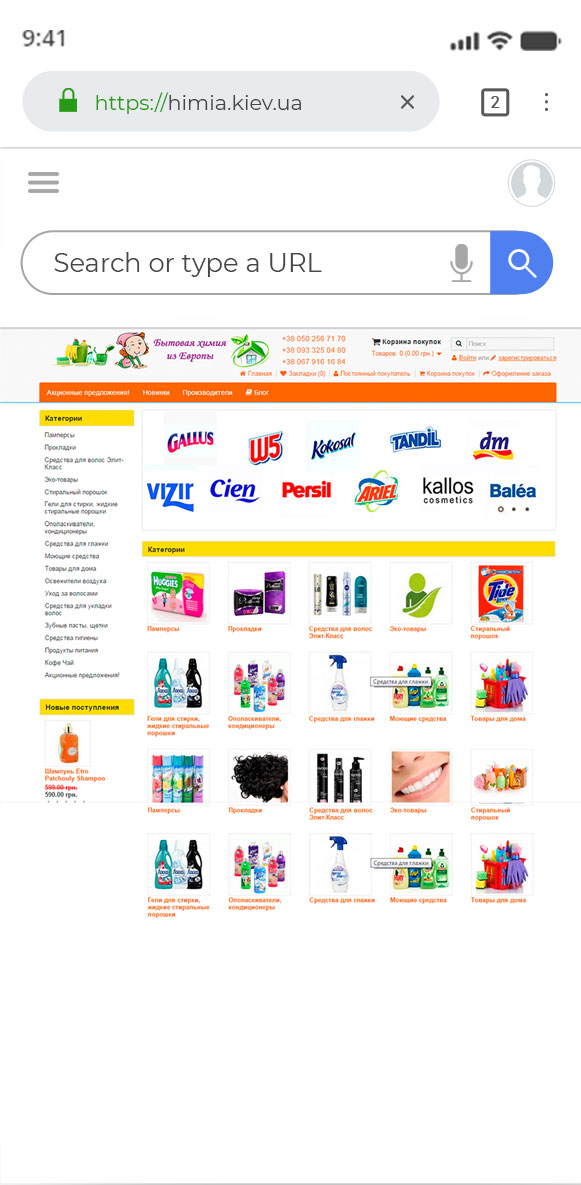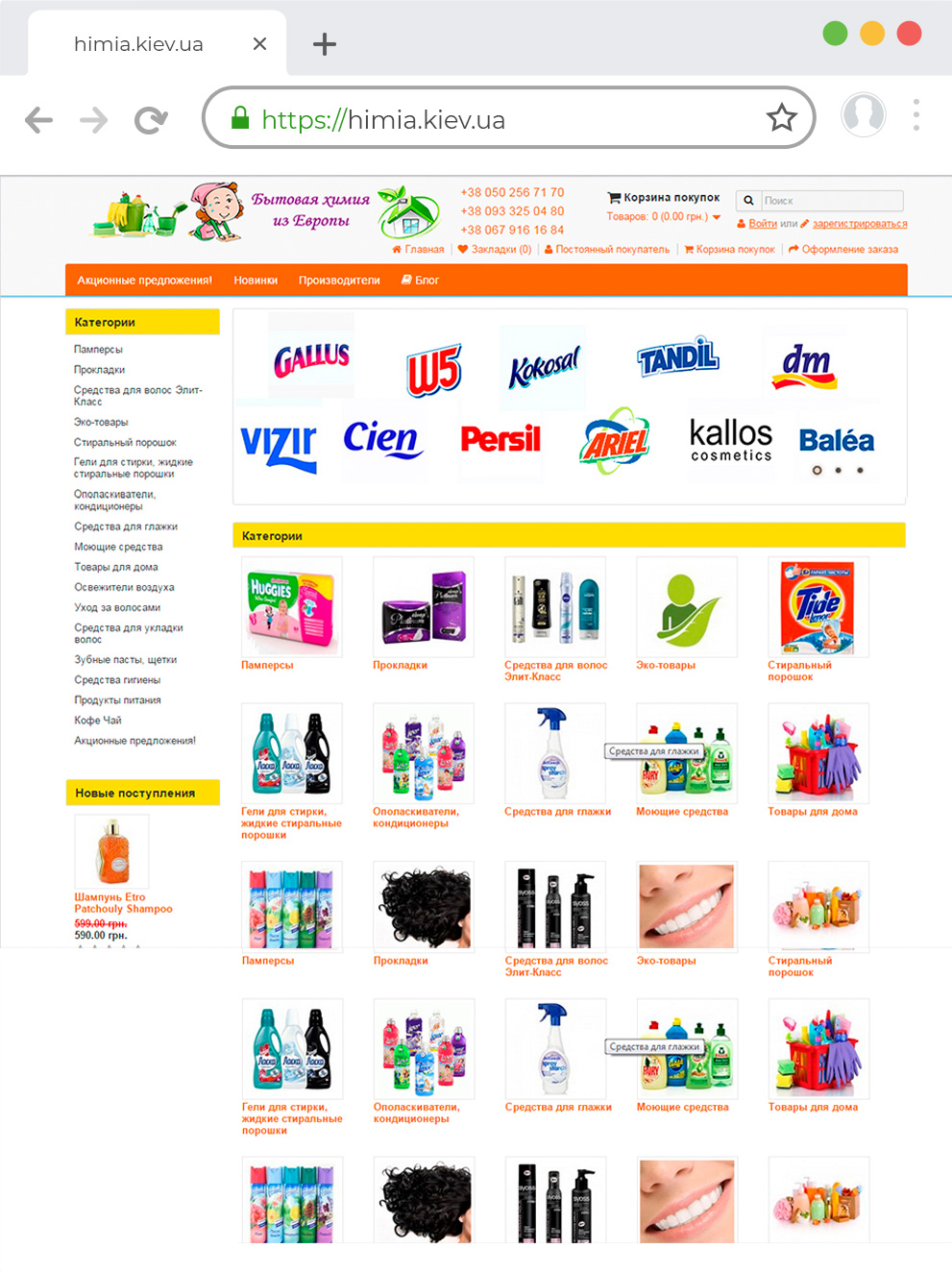 Development of an online store for household chemicals
Every modern home uses household chemicals widely. It is mainly women who buy it, as they use it more often than men. Detergents and cleaning products have always been reliable assistants to the hostess, so buying for future use and procuring chemicals at an affordable price is a good offer. We advise you to order such products in online stores of household chemicals, because online shopping has so many advantages. Why is it more convenient to make a purchase here than in a supermarket?
In an ordinary store, products are displayed depending on the advertised brand, where such types of household chemicals will stand on "special" noticeable shelves so that the buyer immediately draws attention to them. This manipulation is not possible in the online store.
On the website of a company that sells household chemicals, you can rush to study all the characteristics of the product, compare prices without moving from one shelf to another, read customer reviews, and calmly make online order.
On the web page of the trading company, all products are conveniently grouped by product type: baby products, body care products, cleaning products, dishwashing detergents, etc. So the choice of the right tool will turn into an easy and exciting task. You can make an order without leaving your house, sipping delicious tea in your favorite pajamas.
The advantage of the online store is the order of household chemicals, with the possibility of delivery directly to your home. Such a service helps to save time, effort and in some cases money, as many companies provide such a service for free.
Managers always give discounts to regular customers of the store, so the benefits of such purchases will be not only for the home, but also for your wallet.
The best way to promote products is your own online store
The online store of household chemicals will be a reliable assistant and will be able to sell, be useful and effective in the field of sales. BAST web design studio was able to bring together professional young people to create high-quality web products. When specialists treat the execution of the order as their favorite business, rather than aiming to create a standard web platform, the result of this work compares favorably with its individuality and thoughtfulness, in terms of promoting the business. In the BAST studio you can order the development of a turnkey online store of household chemicals with different types of modifications:
minimal (with a creation period of up to 7 days);
standard (development time up to 14 days);
with integration in 1C (creation time up to 20 days).
To make your business profitable, create your own online resource that will become your business card and will help expand your client base. After all, with the help of such a store, you can advertise your product on social networks by setting the necessary settings in the personal account of the online store. Product promotion is facilitated by the high-quality design of the online store, which will be developed by the best specialists of the BAST web design studio. In addition to development, we provide services for the subsequent refinement of the Internet resource in the process of developing your business. You can also talk about the maintenance, updating, parsing, promotion of the online store with the managers of our company.