Разработка сайта на WordPress
Site: beieugen.de
Tagline:
Only tasty and healthy food!
About company:
The Beieugen company distributes fast food in Germany and one of the main dishes is cheburek. Our assortment has a very large selection of delicious dishes.
Task
Website development for WordPress business cards for Beieugen. The site design was based on a layout developed by the customer himself. The main task was to realize everything as soon as possible.
Concept
The strategic session with the client determined the movement vector – it was necessary to come up with a completely new form. By transmitting through the site that emotion that a person experiences from eating food.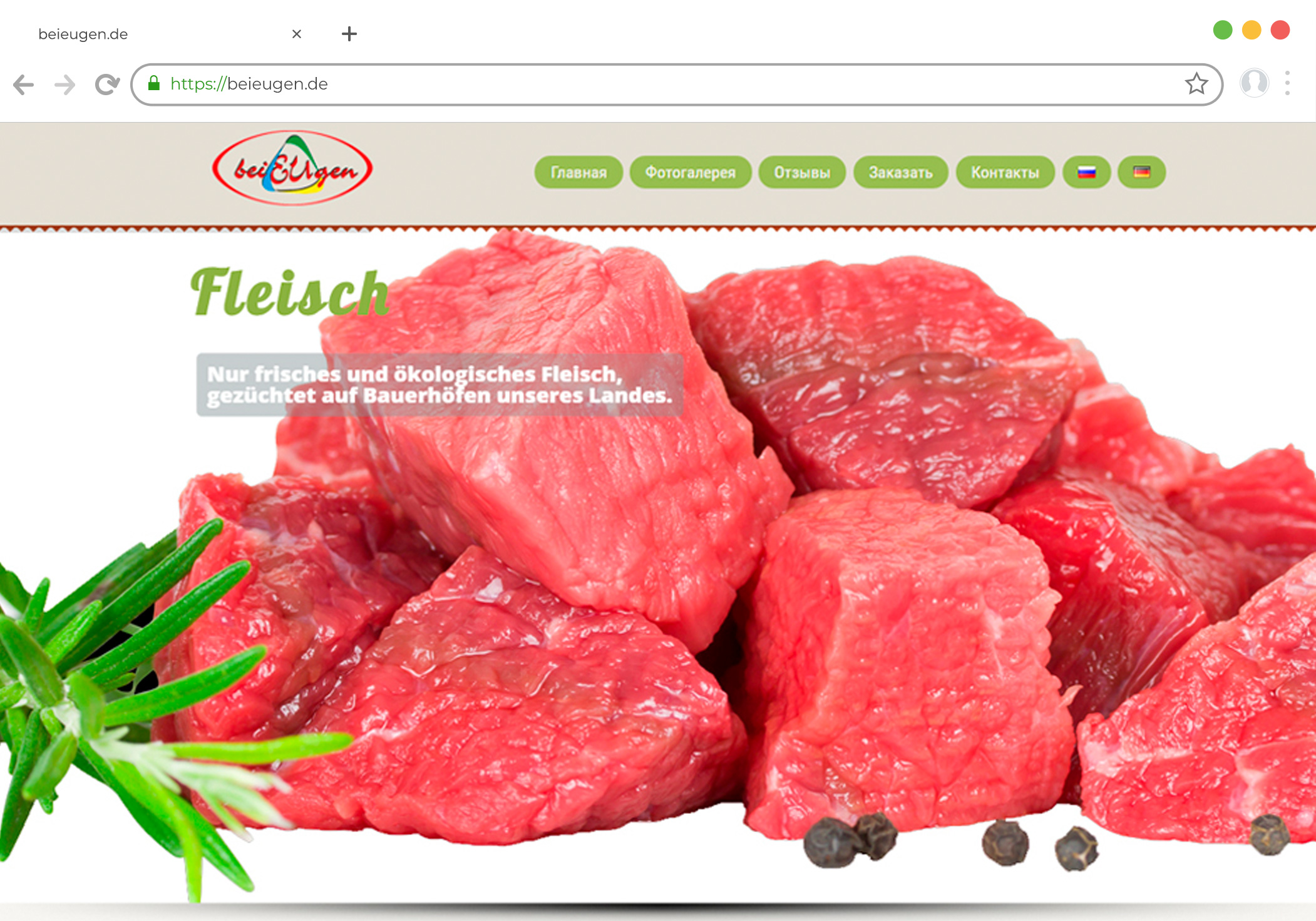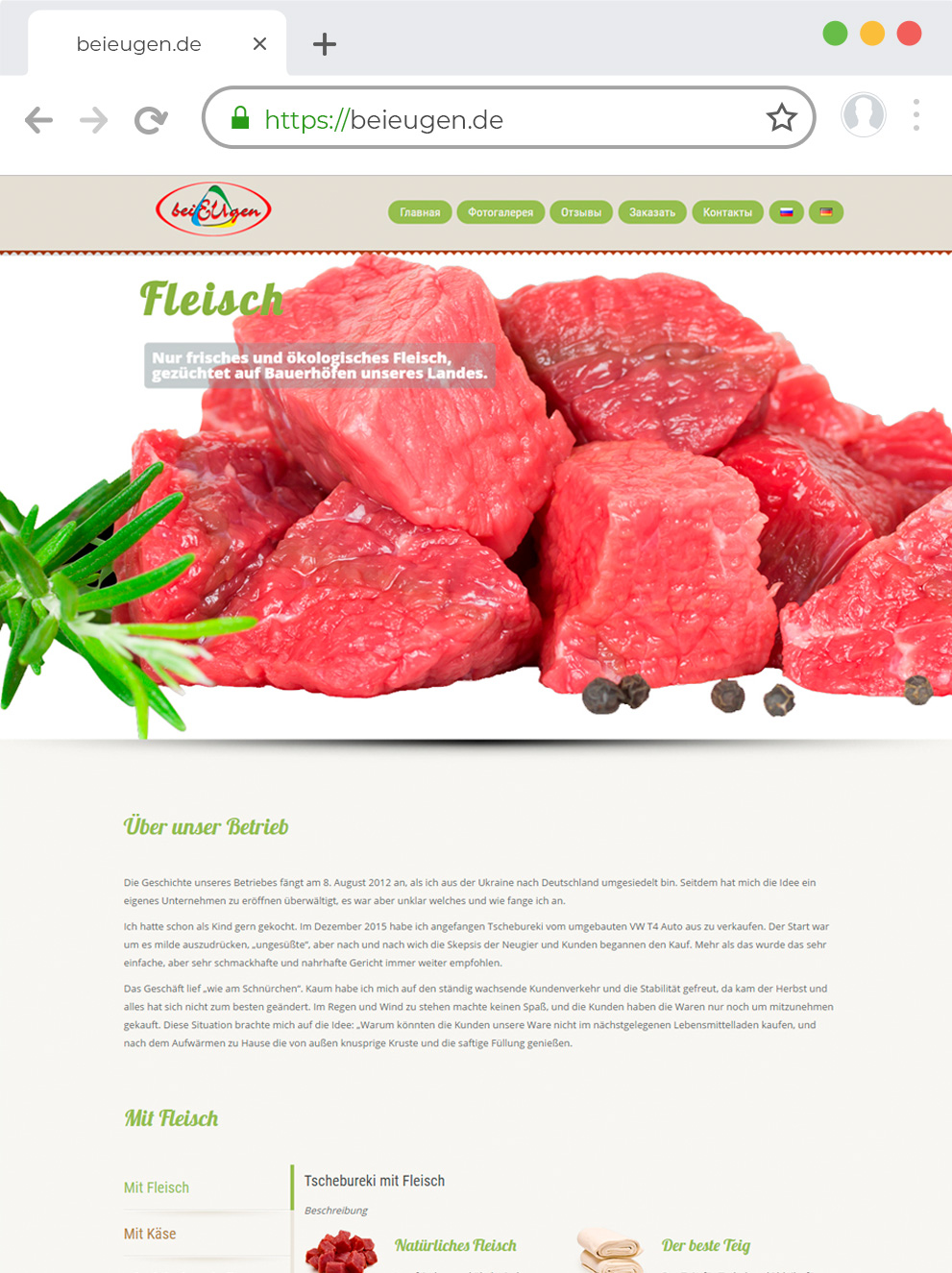 Website for a cheburek company
When creating any site, you should always take into account the specifics for which visitors, for which potential customers it is created. So, the site of a famous and fashionable designer will have one design and a certain content filling, and the site for a company for the production of pasties will have a completely different design and content filling.
Moreover, sites for a company for the production of pasties are much more common terms of reference for web developers than sites for designers. The fact is that there are much more manufacturing companies than designers, and many of these companies are located not in the capital, but in remote district centers or even in villages.
And the Internet for such companies is, in fact, the only effective means of promoting their products in new markets.
Features filling sites for manufacturing companies
What should be on the site for a company for the production of pasties as a typical production company?
The range of products. Here you can not invent a bicycle, but use the same technology that is used to create websites of online stores. Namely, on the page of the site or on several pages to place:
Photos of products;
Its value;
Terms of manufacturing a certain batch of products.
With this approach, ordering a website for a cheburek company will partially duplicate the functions of the product sales department, which will reduce the number of its employees.
Filling the site with content about the benefits of products that the company produces. If you still talk about a company for the production of pasties, then potential buyers should tell how these pasties differ from pasties produced by competitors (the best quality of meat and dough, large sizes of pasties, etc.).
Contact Information. A mandatory requirement for any sites that offer for sale any goods or services.
Beauty or functionality?
Wrong question. Any site should be both beautiful and functional. And making such a website will help you a professional website developer and designer.
An experienced specialist will make your site beautiful, functional and convenient for visitors at the same time. Moreover, it will help you promote it in the top search engine results.
After all, why create a site if not a single visitor sees it? And this is also an important problem that a professional web developer will help you solve. Yes, of course, other specialists are involved in the promotion of sites in the top search results for Google and Yandex. But the web developer lays the foundation for their work.
Agree, it is difficult to demand victories from the rider, having him behind the wheel of a family minivan if he has to compete with sports cars. And a professional web developer will be able to turn your site from a clumsy minivan into a fast-moving sports car.