Website development on WordPress for a beauty salon in Kiev
Site:
Tagline:
Always watch your body!
About company:
Beauty salon which is located in the center of Kiev.
Task
Website development for WordPress business cards for a beauty salon. The site layout was developed by our web studio by one of the best designers..
Concept
A strategic session with the client determined the vector of movement – it was necessary to come up with a completely new form. By transmitting through the site that emotion that a person experiences from visiting a beauty salon.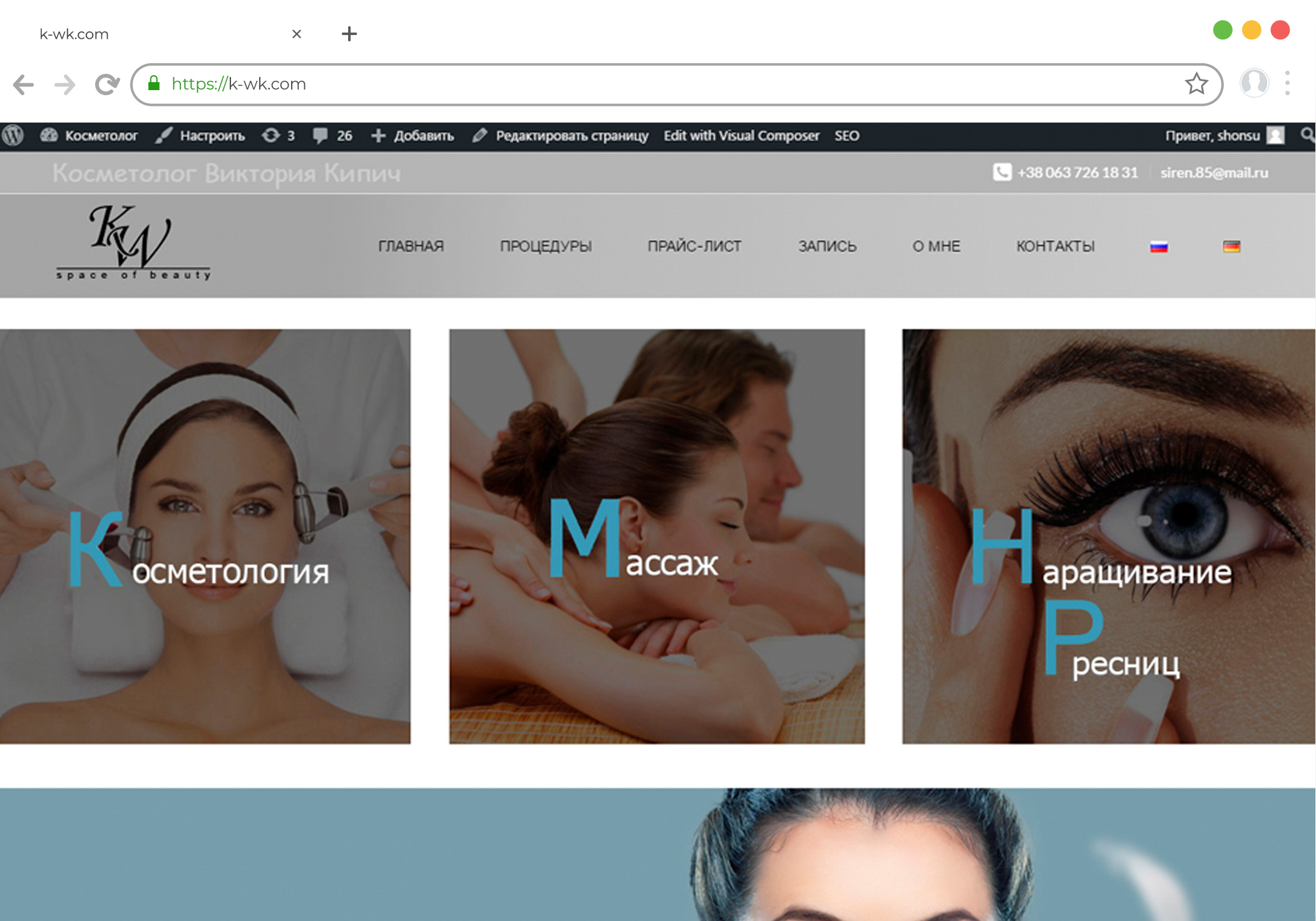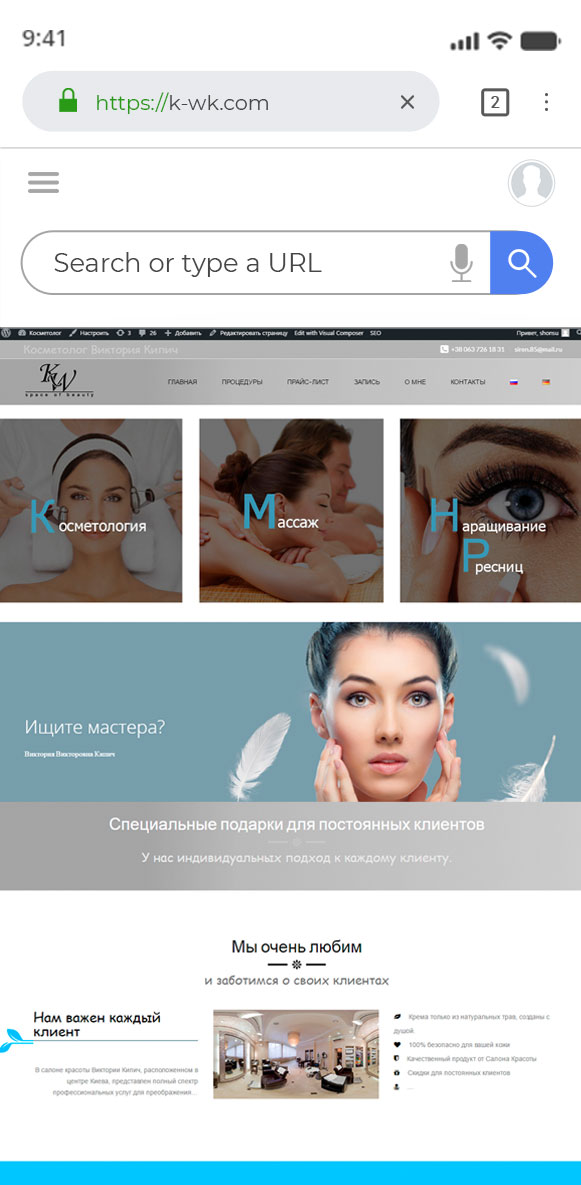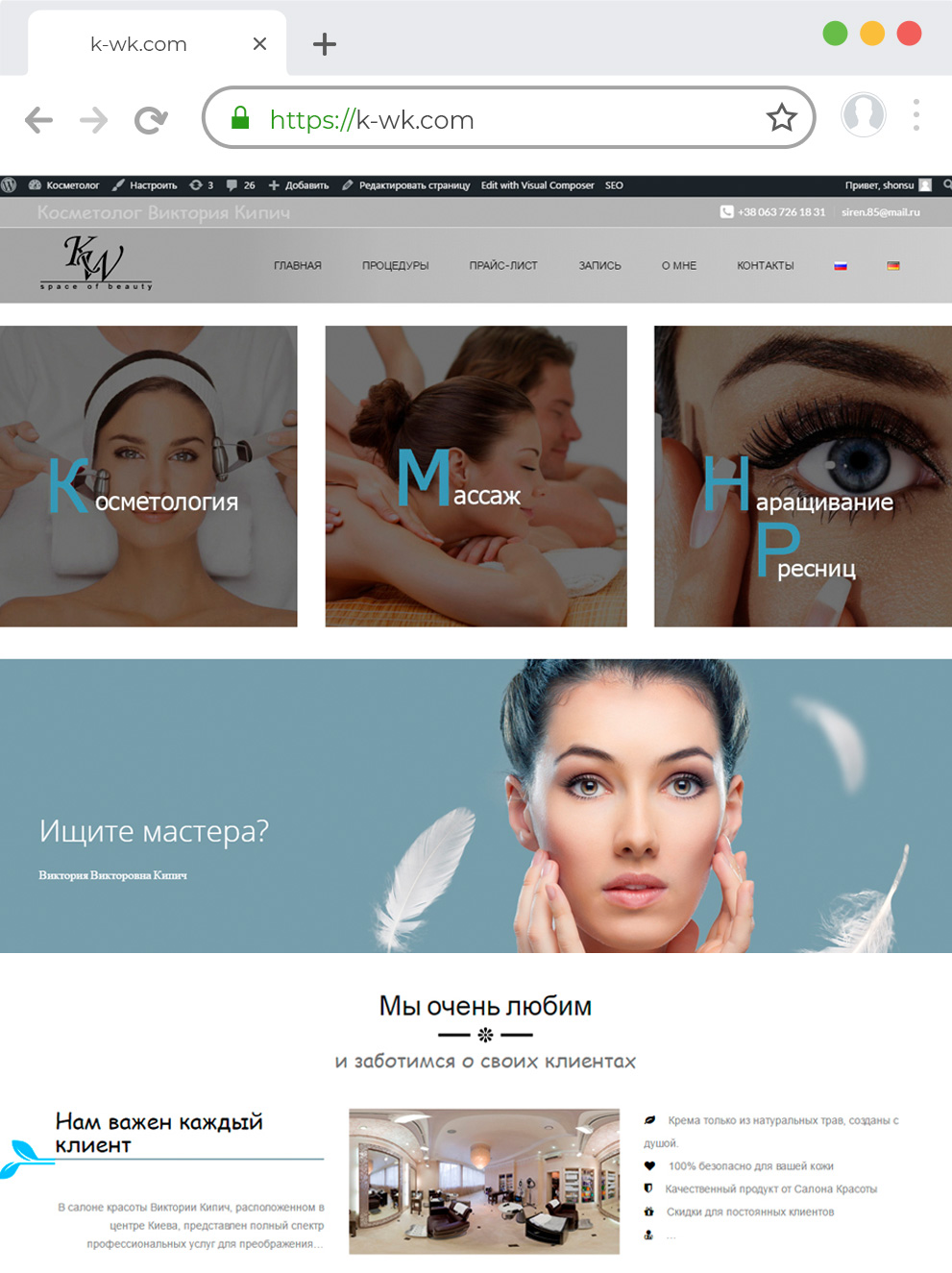 Creating a website for a beauty salon
Can a good beauty salon do without a website? Of course it can, but then he will have fewer customers and, accordingly, a small income. Any salon provides a wide range of services, from a regular haircut to expensive facial rejuvenation procedures. But you must admit that the competition is quite high, because almost every corner opens its own salon and it is becoming increasingly difficult to attract new and retain regular customers. You can do this using modern methods, namely to create a website for a beauty salon.
How many people come to your salon every day: ten, twenty or fifty? Note that the website will receive thousands of visitors, where they can see exactly what services you provide, their prices and even the methodology. Your employees will be able to calmly do their work without being distracted by standard questions about the price and details of the procedures. In addition, the resource will work 24 hours a day, which is simply physically impossible for the average person. To make a website for a beauty salon attractive and carrying useful information, help real professionals in this matter.
The main advantages of the resource for the beauty salon
Firstly, it is an excellent medium of information where the client can see the cost of services, a variety of procedures and even photos of cosmetologists. You can safely place a price list on it, inform about new products or promotions, as well as print information about awards, diplomas and certificates. Note that such information will affect the level of trust of people and increase the image of the salon. And this is a great competition in our time, just in case.
Secondly, the resource will help you maintain the image of the institution. If you have well-known cosmetologists, stylists or other masters working in your salon who perform their work efficiently, you can talk about it on the site, or even better, upload a portfolio there. Photos of the work will most likely attract the attention of customers, and they will have a desire to visit your institution. In this case, you do not have to pay money for advertising on television or radio, all the necessary resources will do for you. It's better to spend money on advertising on the Internet , which will be much cheaper, but more effective.
Thirdly, you can allocate a place for reviews on the resource where people who have already visited your salon will be able to thank for the quality of the procedure, attitude and low prices. In addition, there they will be able to express their wishes, ask questions of interest.
Fourth, the site will help to keep customer feedback and show your contact details. After all, a paper business card may be lost or torn, and information on the Internet will always be in place.
You can order a site for a beauty salon in a professional web studio BAST. It will take just a few days to complete all the work. Create a resource for yourself and provide your customers with a clientele!